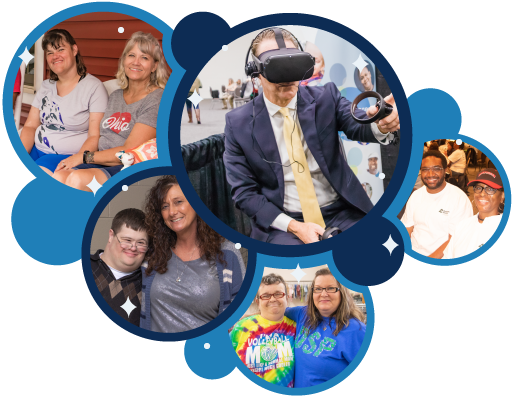 Did You Notice?
The Ohio Department of Developmental Disabilities (DODD) is embarking on an exciting opportunity to create a training experience for Direct Support Professionals (DSPs) combining the use of online learning and virtual reality. Supporting DSPs is a priority of DODD, and investing in their professional development demonstrates the important role DSPs have in the lives of Ohioans with disabilities and their families.
Whether you are a brand new DSP or an experienced one, recognizing that behavior serves as communication leads to increased observational skills, knowledge, and empathy toward those we support. In this online training module, you will hear from people with developmental disabilities, DSPs, and experts on the importance of noticing that all behavior is a form of communication.
Learn More About This Project
Video: An Exploration of Communication
---
---
What is Audio Description (AD)?
When AD is enabled, descriptive language narrates what is on the screen. To learn more, visit our accessibility webpage.
---
Video Player Help
Kaltura Video Hosting: This website uses Kaltura, a video hosting company, to serve video content. If you are having difficulty viewing videos on this site, it may mean that your location (e.g., school district, organization) is blocking or filtering the Kaltura website. Please contact your IT personnel to resolve this issue.
Accessibility: We strive to make this website accessible for all users, including people with disabilities. We test and modify this website for optimal usability. If you have any accessibility questions or find any pages on our website that pose accessibility barriers, please contact support@ocali.org.